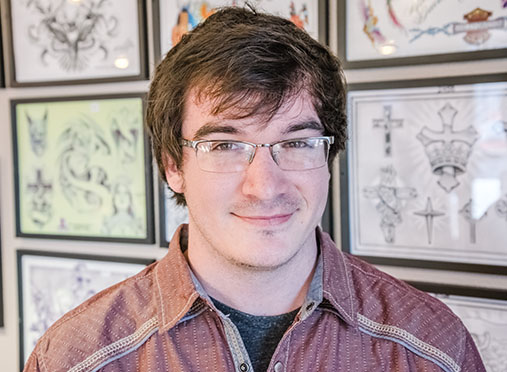 Tattoo Artist
Instagram: @ampgraffiti
Aaron Pearcy began at Thrash's Tattoo in 2015 apprenticing under Kevin Troxel. He quickly flourished into a talented tattooer specializing in Black & Gray realism. In addition, he enjoys black work such as mandalas, and lush floral pieces.
Aaron grew up in a military family, which gave him the unique opportunity to experience other cultures firsthand. When he was nine, Aaron discovered his passion for art as he watched a German portrait artist recreate photographs from chalk pastels. This experience was the spark that fueled his passion for photo-realism and portrait work.
When Aaron is not tattooing, you might find him working on one of his many murals around town, raising his family, or neck deep in homework as he works towards a degree in Computer Animation.
Aaron's Work: