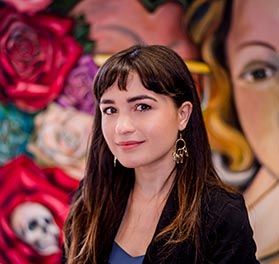 Tattoo Artist
Instagram: @amanda_allison_tattoos
Coming in at 5′ Amanda is small in stature but embodies a fierce and eclectic spirit. Her art is whimsical and imaginative, drawing from her childhood spent in the forests of the West Coast. "I grew up in Oregon outside the Portland area and spent as much time walking through a creek or climbing mossy trees as I could. I love imagining nature in a playful way." Right now she is inspired by florals, and folk art but is known to morph her interests along the way.
Amanda earned an apprenticeship at Thrash's in 2017 studying under Matt Thrash and Loren Gooden. Since then she has grown into a budding artist as you can see from her work below. She is excited to build her portfolio with new work, and create beautiful body art in her community.  Whatever tattoo you're looking to get, Amanda brings her intuition to the design process so that you not only get the piece you want, but a piece that is uniquely yours.
When Amanda is not tattooing, she is listening to podcasts or getting lost in the Black Hills.
"The inspiration you seek is already within you. Be silent and listen."-Rumi
Amanda's Work: