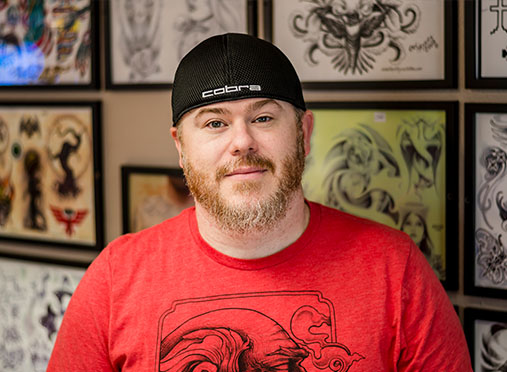 Tattoo Artist
Instagram: @ldgoodtattoo
Loren Gooden has been with Thrash's Living Art Studio since 2005 and has been tattooing for over 12 years. He's done everything from Shop Assistance to Cleaning Crew to Tattoo Artist and Shop Manager. Loren had the pleasure and honor of learning his tattoo skill from Matt Thrash himself and continues today extracting Matt's secrets of tattooing. With a background as a graphic designer, Loren pulls from his design education to bring a higher level of artistry to his work. He uses this creative foundation to discover the best solution for his client's requests for ink.
Loren is well versed in all styles and genres of tattooing from photo-realism to abstract and artistic. Loren prides himself on being and an illustrative tattooer and finds a lot of enjoyment with the new school illustrative style, as well as neo-traditional and American Traditional.
Loren has had the pleasure of spending his entire career with Thrash's Tattoo and looks forward to creating new and unique pieces for his clients for years to come.
Loren's Work: