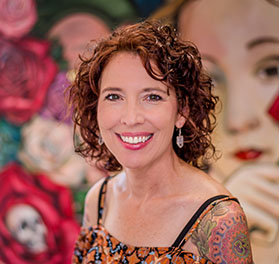 Owner / Shop Mom
Contact Cat
Cathy has a degree in psychology and sociology from Black Hills State University and uses it every day (LOL!). In a nutshell, she loves people. She wears many "hats" in life, one of which is "Shop Mom". She doesn't actually DO the art or body piercing, but she supports those who do. She does a lot of behind-the-scenes work like paying the bills, handling marketing and advertising, payroll, meetings, and trainings. She and Matt were married in 2001, and in that same year created Thrash's Living Art Studio. It has been a crazy-fun ride ever since!
She also loves working in the body-mind-spirit realm. She created Dharma Energy & Spirit in June 2016 and assists people by connection to Source as a medium and reiki practitioner. She loves seeing clients reach clarity in private sessions, as well as hosting events and retreats such as Tea & Spirit, and Clay & Connection. She continues to travel and train to add to her knowledge. To find out more information about this, here is her website link : www.dharma-spirit.com
Being outside and soaking up nature is a must for Cathy. She enjoys yoga, reading, traveling, and jam bands. Two awesome children and three Boston Terriers round out the fullness of her life in the Black Hills.